Meet E, Blogger over at
Strawberry Swing and Other Things
! E has a keen sense of style and just so fabulous that she shares her how-tos, design, fashion, and beauty with the rest of us. She's just so fabulous that you almost want to hate her, but you just can't because she's so awesome. You should absolutely check her out!
Hi Everyone! I'm so excited to be guest posting today at Haute Child in the City! I go by E Hayes and I blog over at Strawberry Swing and Other Things. I like to refer to myself as a random blogger as I love to write about a mix things, usually shopping, decorating, and crafting.
1. I pretty much love everything about your eye for design and style. How would you your describe your style and where you find your inspiration for style and design?
Aww, shucks... thanks Chelsea. I always break down style into two categories - fashion and home. However, these things totally go hand and hand
(have you seen 'Secrets of a Stylist' on HGTV?!).
I have a strong connection and am just naturally drawn to anything that I like to call
Beachy Chic
.
I grew up at the Jersey Shore and while I'm not into all things wicker or lamps shaped as seashells
(or juiced up gorillas
), there is something about light cool colors (blues, greys, navys, tan/sand, grassy greens, and crisp linen whites) that just draw me in. It's no coincidence my favorite colors to dress, decorate, and even plan my wedding revolve around this connection to the place I'll always call home - the beach.
you can see the influences in our actual bedroom
and kitchen (sorry, poor lighting)
I try not to be too literal, especially since we live in Pennsylvania a good 90minutes from the waves and sand, but textured trays, mossy green vase fillers, and rustic tables and scones I'm all over like sand on... well, anything!
Gearing more into fashion, I'm definitely a tomboy at heart. It's rare that you'll ever catch me in a dress or a skirt outside of a special event. My favorite styled celebs are those who I'd refer to as 'California Cool'... casual yet put together. Lauren Conrad, Rachel Bilson, and Jennifer Aniston definitely have the style I feel most connected too. It's not overly girly or prissy (which I am far from - pink can activate my gag reflex), nor is it too edgy or 'city' girl like....
again, the color scheme is apparent, and it's pretty obvious what I'm drawn to
(nautical stripes, anyone?)
2. What is your must-have beauty product?
So hard to pick just one! When I think "beauty" product, I tend to think of make up over skincare, so my must-have beauty product would probably have to be Bobbi Brown Long Wear Gel Liner. Screw the mascara, blush, and lip gloss. If I had to run out of the house at a moment's notice, this would be the only thing I'd throw on.... and it would last all day. Definitely a HG product.
3. What are your currently lusting after for Fall/Winter?
Since this post is already getting pretty photo heavy, I'll just list one thing. (SO HARD!) It's tan heeled oxfords. I don't know why, but I'm am just L-O-V-ING these styles. Now, just time to pick a pair!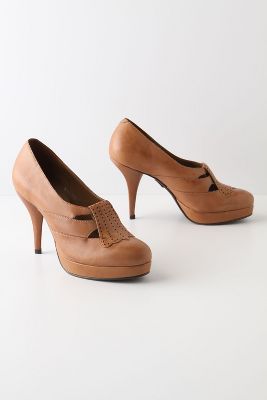 4. What is must-have for any wardrobe this Fall?
While some trends like leopard or (flat) loafers are HUGE for Fall, they are two I'll be skipping out on. Instead, I'll be trying Red Pants, Oxfords (see above), Capes, and and Deep Jewel Tones.
5. What are some of your favorite designers/go-to stores and what is it about their designs that draws you to them?
Let's do this backwards. My go-to stores are Anthropologie, Urban Outfitters, and J.Crew. It's no secret I love Anthropologie and it's mainly because they follow the trends you can find at the usual mall retailers, but their offering is always unique to anything else out there. When everyone in the office is dressed by Express and Ann Taylor, Anthro still has plenty of options that can guarantee you won't be a clone of the girl in the cubicle next to you. Urban is a gem for lower priced random finds... belts, scarves, dresses, and tops. And J.Crew speaks to my inner prep, I love me a good cardigan.
My favorite designers would be Rebecca Taylor, Marc Jacobs, Milly, and Tucker. Sure the high end stuff is great, but completely unattainable. While I also usually lust over these designers from afar, they would be the first to join my closet given the chance.
6. I love your most recent closet re-vamp. Any advice for how to tackle such a large under-taking? And what's next on your list?
My advice would be to make sure you are fully motivated.... It's easy to want to take short cuts, but they will usually come back to bite to you in the kisser. Also, make sure you plan out your course of action before you start on the project, this will hopefully bring any issues up to the surface before you run into them midway through and have to spend more money to solve them.
The next 'big' project is revamping our guest bathroom. It's pretty neglected. Again, it's not going to get any major renovation, just a lot of making over and using what we already have...
7. What are three things you couldn't live without? (This could be people, items, etc.)?
My first pick is three things, so I'm lumping them together since they are sort of a package deal: The Husband and the Pups.
My second pick is probably the only thing I'd bring with me to a bomb shelter: Double Stuf Oreos.
(I've been known to eat entire packages in 2 days flat)...
My third pick would have to be the place that makes me happiest (aside from being with #1): The beach.
Thanks so much Chelsea for allowing me to be a guest blogger! I had a blast answering these questions. I hope your readers didn't get tired from my long winded answers.... I'm known to be a rambler! Thanks!
Thanks again E!! Don't forget to check out her blog
here
or Follow her on
Twitter
.