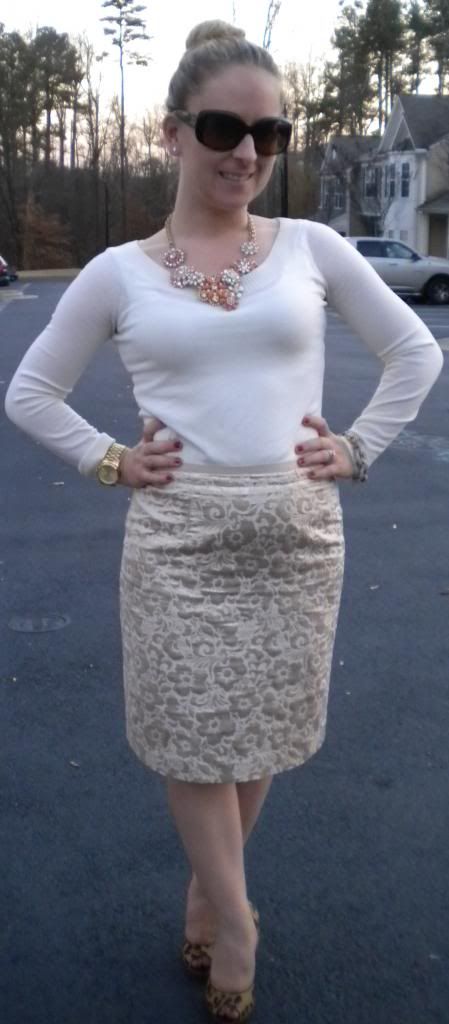 [Shirt: Banana Republic/Skirt: LOFT/Necklace: JCrew/Shoes: Steve Madden]
You may know me. I'm the woman at my desk pounding venti peppermint mochas (soy, no whip please) like it's going out of style because my son (in his epic ability to sense the days that I need to be on my game) has woken up at 12:30 am and decided that it's party time. The college me can appreciate this mentality, but the older, somewhat wiser, professional Chelsea is befuddled at the fact that sleep seems to allude both of us until 5:30 when I have to get up anyway.
So I throw my hair in topknot, slather some eye cream and BB Cream on my face (THANK GOD for modern invention), and strut off to the office in hopes that between my teleconferences no one will notice me drooling at my desk.

With a face like this little guy's, I'll take 12:30 am parties over my old college ones any day.
Oh and yes, it's December and I've wearing peep toe shoes because on this particular day, Mother Nature decided to gift us with an early Christmas present...temperatures in the 70s. Yes, you read that correctly. I know everyone is concerned about global warming, but I appreciate being able to eat lunch outdoors in December.